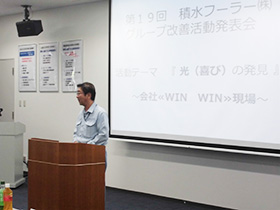 On Tuesday, September 27, the 19th Workshop for Operational Improvement was held at Shiga Plant, and 9 teams selected from Shiga and Hamamatsu Plants presented.
The President Ian Moran and many employees of associated companies, who joined the workshop, made dynamic speeches about the results of operational improvement activities for the first half of fiscal year. This workshop, which has been held since the company's establishment in 2005, serves as an engine of building the market-leading company in quality and production efficiency with improvements to provide higher quality products for our customers.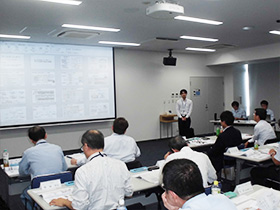 In this workshop, the team "Golden Eggs" of Hamamatsu Plant won the first place in presentation,
followed by "Cool Boys" of Shiga Plant. Both of them achieved significant results by working on quality improvement and reduction of troubles. As a result, they were highly valued for their works that led to customer satisfaction improvement.
Masashi Shibayama, General Manager of Manufacturing Division, described that it is important
to continue operational improvement activity no matter how busy we are.
The next workshop will be held in March, 2017.
Further challenges for operational improvement has already been started.